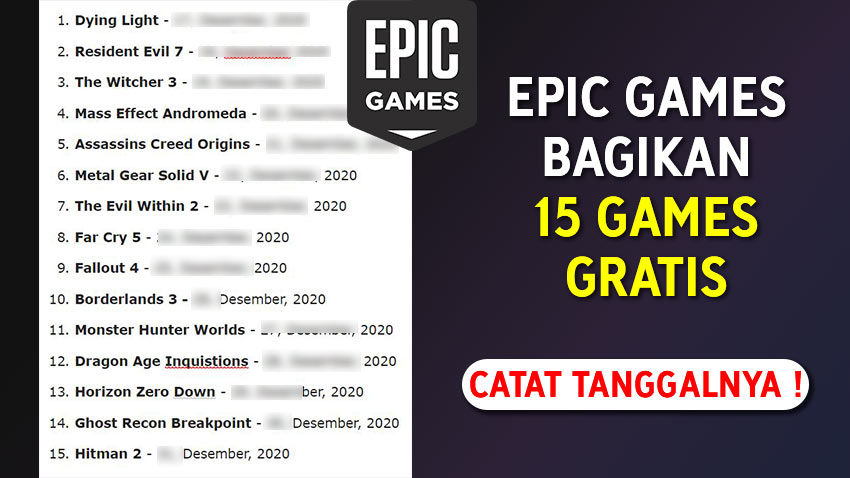 Lagi dan lagi Epic Games membagikan game secara gratis, pada tahun 2020 entah sudah berapa game yang dibagikan secara cuma-cuma.
Namun berbeda pada bulan Desember 2020 ini, ada banyak game AAA yang diberikan, total kurang lebih ada 15 game selama periode 17-31 Desember ini.
Game apa saja yang gratis? berikut bocoran 15 game gratis di Epic Games, beserta tanggal pembagiannya:
Update 18, Desember 2020 
Ternyata rumor daftar tersebut salah, namun event pembagian 15 game dari Epic Games memang benar. Kami akan terus memperbarui artikel, agar tak sampai ketinggalan event game gratis ini!
Untuk bocoran yang cukup akurat Anda bisa periksa pada artikel ini: Bocoran 15 Game Gratis Epic Games Store, Paling Akurat!
Oh iya, mungkin tanggalnya telat satu hari, karna situs web Epic Games mengikuti zona waktu negara Amerika Serikat.
Dying Light  17, Desember, 2020
Resident Evil 7 – 18, Desember 2020
The Witcher 3 – 19, Desember, 2020
Mass Effect Andromeda  – 20, Desember, 2020
Assassins Creed Origins – 21, Desember, 2020
Metal Gear Solid V – 22, Desember, 2020
The Evil Within 2 – 23, Desember, 2020
Far Cry 5 – 24, Desember, 2020
Fallout 4 – 25, Desember, 2020
Borderlands 3 – 26, Desember, 2020
Monster Hunter Worlds – 27, Desember, 2020
Dragon Age Inquistions – 28, Desember, 2020
Horizon Zero Down – 29, Desember, 2020
Ghost Recon Breakpoint – 30, Desember, 2020
Hitman 2 – 31, Desember, 2020
Perlu kamu ketahui daftar di atas masih rumor belum ada pernyataan resmi dari pihak Epic Games Store mengenai judul game yang dibagikan. Rumor tersebut sudah tersebar dari server Discord dan juga Twitter, kita lihat tanggal 17 Desember 2020 nanti.
JEUX GRATUITS sur Epic Games du 17/12 au 31/12 à prendre, ne ratez pas !!! pic.twitter.com/aiR1FLzqye

— Kinstaar (@Kinstaar92i) December 15, 2020
Sehubungan dari itu, sudah dari tanggal 10 Desember 2020 Epic Games Store mengumumkan bahwa akan ada diskon besar-besaran dan 15 game gratis yang mulai dibagikan pada tanggal 17 Desember 20, dengan tajuk "The Epic Games Store Holiday Sale is back on December 17, bringing you the gift of great discounts and 15 Days of FREE Games!"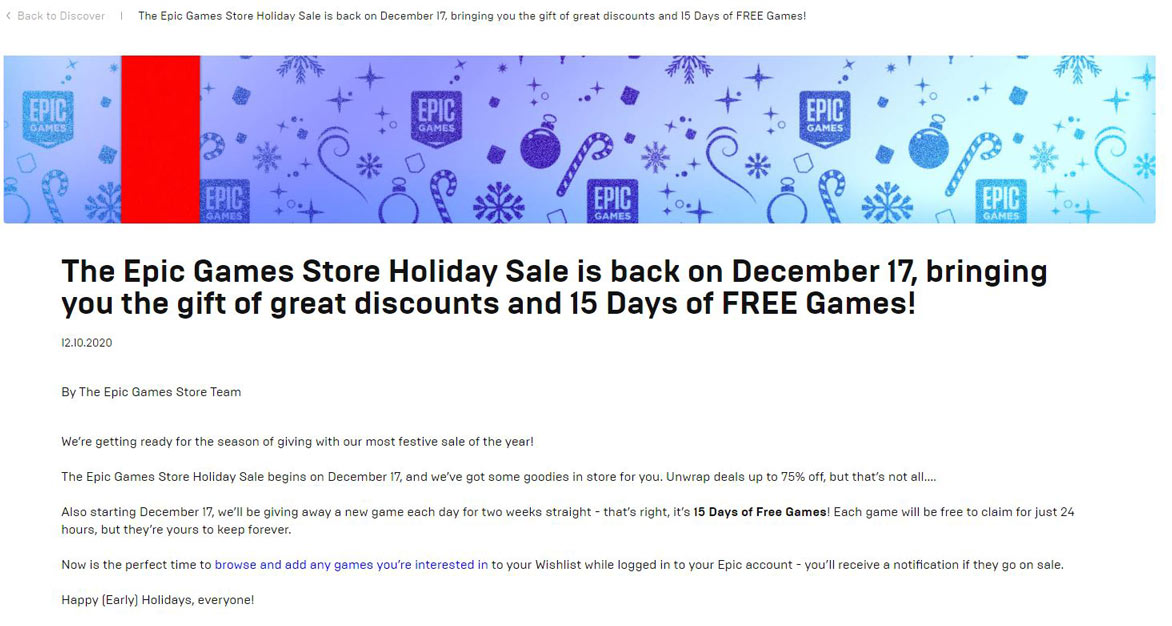 Berikut informasi tautan artikel pengumuman dari Epic Game Store [klik di sini]. Selain itu untuk memeriksa game gratis Anda bisa periksa pada halaman [Free Games].
Walaupun belum pasti, tidak ada salahnya untuk siap-siap mengatur pengingat waktu, agar tidak sampai ketinggalan. Pasalnya game tersebut dibagikan satu hari satu game. Serta game-game tersebut jika Anda beli lumayan lho harganya.